Oricorio: The Dancing Pokémon
Oricorio is a Fire/Flying-type Pokémon introduced in Generation 7. It is also known as the Dancer Pokémon. Each of Alola's islands has one of four distinct forms, each with its own beauty. By drinking nectar from specific flowers, Oricorio may change form.
The Baile Style Oricorio is very passionate and energized while dancing. During its powerful dances, it sends downy fluff flying. The Pom-Pom Style Oricorio is a kindhearted Pokémon that employs dance to lift Trainers' spirits when they are down. Its feathers become charged with static electricity while it dances.
The Pa'u Style Oricorio is a powerful psychic-type Pokémon with excellent defensive abilities. It has the ability to synchronize its movements, allowing it to act on its own timetable. Its psychic power is increased by learning how to dance. The Sensu Style Oricorio is a quiet and collected fighter. It gathers the spirits floating around in an area through dancing and borrows their strength to combat.
Biology
Oricorio is a Pokémon with four distinct forms, each of which is based on the type of nectar it consumes. The form it takes on is determined by the sort of nectar eaten. All variants have a light pink beak, thin legs, and dark eyes with white pupils. The front feet have three toes in front and one toe in back, while the beak descends downward.
Baile Style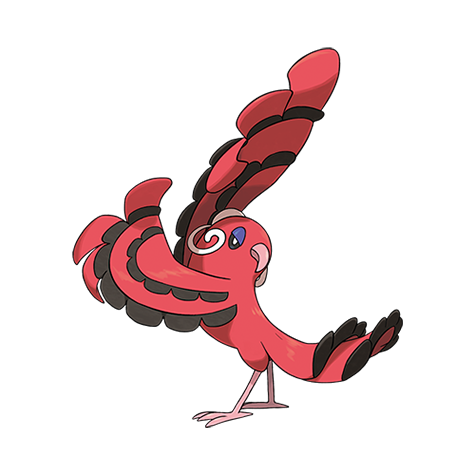 Oricorio is a crimson-feathered Baile Style Pokémon that has two lines of black feathers across each wing and tail of its Ula'ula Island variant. Its plumage looks like a flamenco costume with frills.
Oricorio's head is a white globe with thin, spiraled extensions that mimic earrings on the back. It has purple eyelids and a long tail. Oricorio is cheerful and strong when dancing, and it may become loudly enraged if given incorrect instructions. When it dances, it fluffs off delicate down that may be used to make a fiery dance assault.
Pom-Pom Style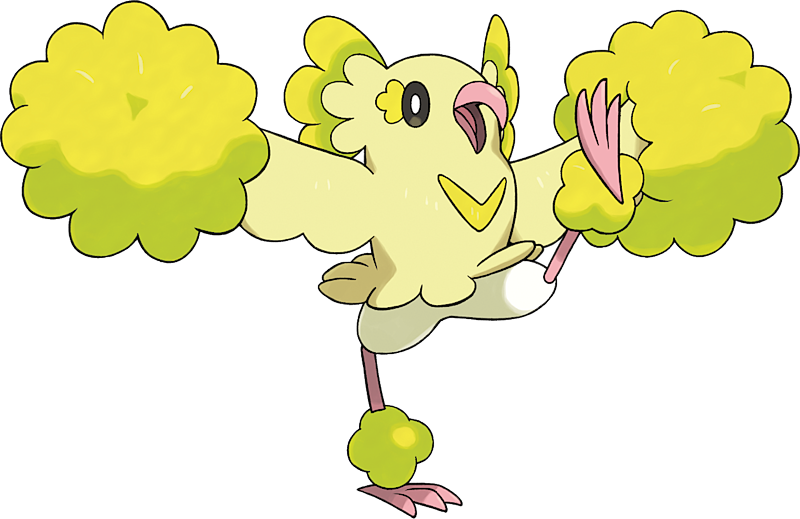 In its Pom-Pom Style, Oricorio is mostly yellow in Melemele Island. Its waist is encircled with a line of longer feathers that form like a skirt around its body. Its legs and short stubby tail are concealed by tiny, white feathers. Fluffy balls of darker yellow feathers cover the ends of its wings like pom-poms, while smaller puff like motifs cover its ankles
Its chest is marked with a yellow v-shape on the inside, and there are fan-shaped markings on its eyes. The markings around its eyes are mirrored by three large, pale yellow feathers on each side of its head, which are tipped with brilliant yellow.
The dancing of the Oricorio pom-pom style is charged with static electricity. Its feathers can be used to attack and deliver electric shocks while charged. It will also use its dance to brighten people's spirits, but it will also shock unsuspecting foes as a result.
Pa'u Style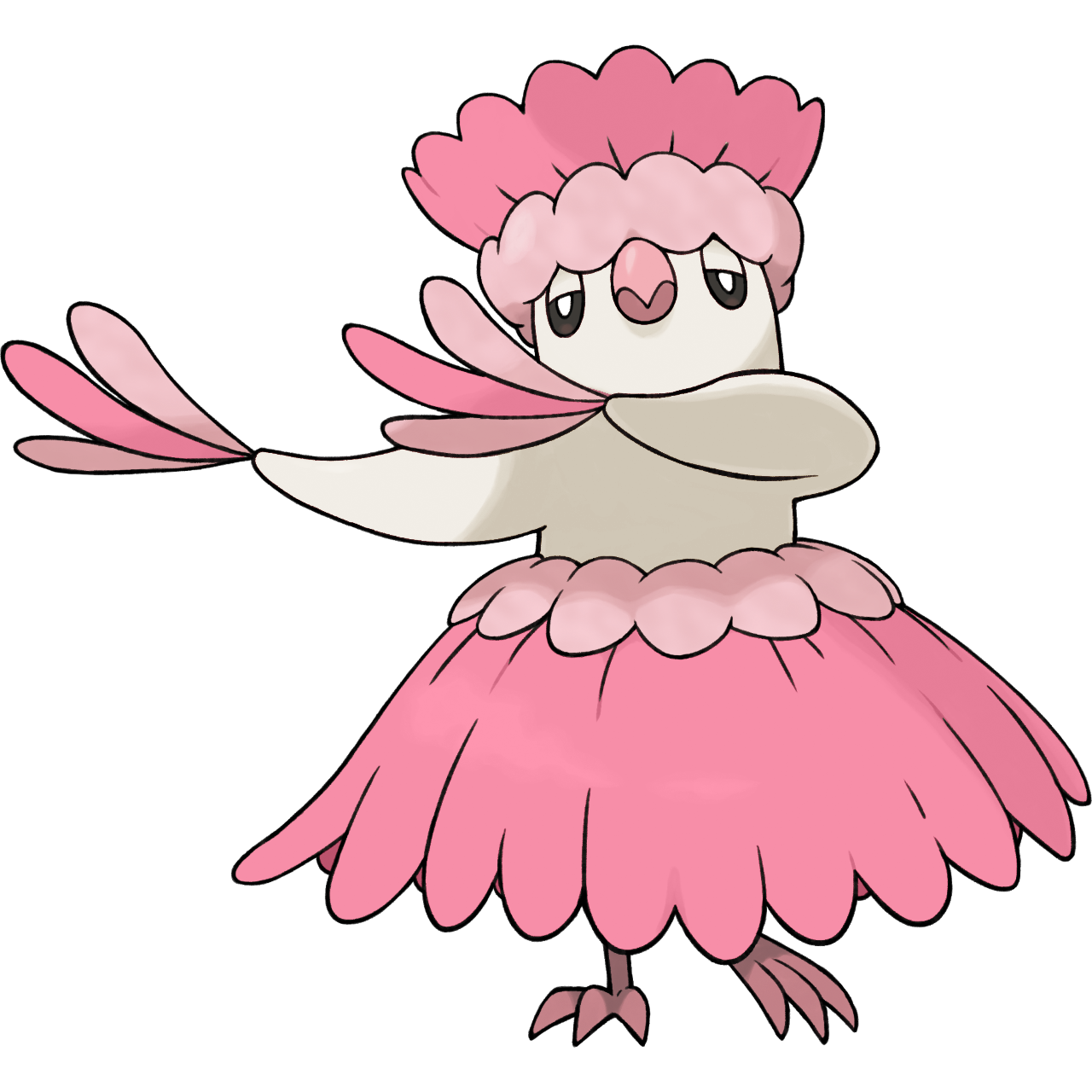 Oricorio's main body is dark pink, but the majority of its other feathers are various hues of pink. A three-feather fan brushes each wing: two light pink with a whitish-pink in the center.
Atop its head is a crown of fluffy, light pink feathers that looks like a tiara: a ring of fluffy, lightweight pink feathers with larger, paler feathers standing out from the middle. Around its waist is a bigger, similar group of feathers that resembles a skirt. Pa'u Style Oricorio may be tough to deal with due to its laid-back attitude.
Its dance is used to concentrate the mind and boost psychic power. The dance is also regarded as a prayer to its protective deity. It gets caught up in dancing, which causes it to disregard its Trainer's instructions on occasion.
Sensu Style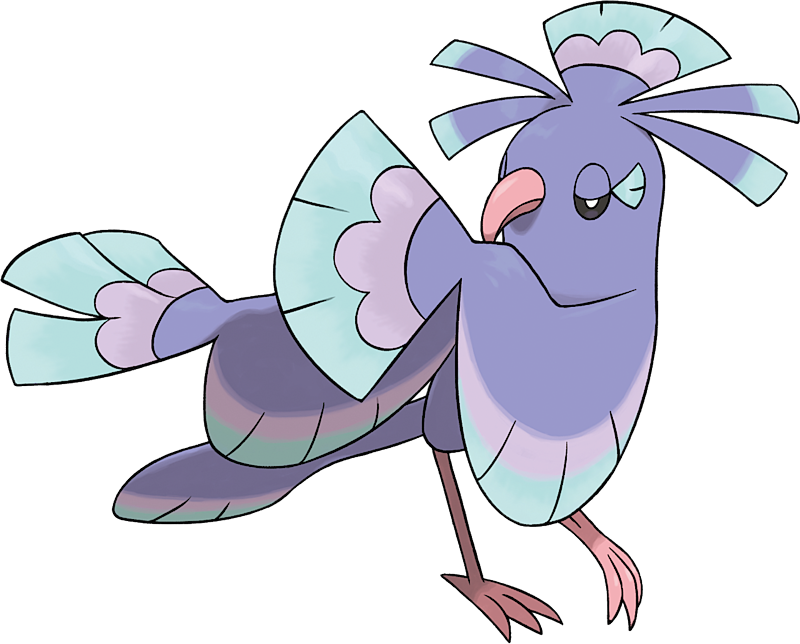 Oricorio's feathers in the Sensu Style are purple. Its wings have a fan-shaped tip and a crest on top of its head that is shaped like a fan. Four feathers with light blue tips originate near the base of its crest and expand outwards into feathery fans. There are two of these feathers on each side, which resemble ornamental hairpins.
The sides of each eye are dotted with tiny, pale blue marks that resemble eyelashes. The outer edge of its wings, fans, head crest, and long tail is bordered by a double line of light blue. Sensu Style Oricorio is a peaceful Pokémon.
Oricorio uses its dance to attract surrounding spirits and absorb their power to combat. Its dancing reminds people of Kanto who have emigrated that they still have a homeland. Revelation Dance is the only known Pokémon skill taught through movement, which transforms Oricorio's type based on its current form.
Major appearances In Anime
In Lillie's Egg-xhilarating Challenge!, Hobbes used his Oricorio in a fight against Ash and Rowlet, defeating Rowlet by using its battle experience to give it an advantage. Oricorio reappeared in The Ol' Raise and Switch! , where it was utilized against Pikachu, who was under Lillie's command at the time; it ultimately lost. It resurfaced again in The Dex Can't Help It! , when Hobbes sent it out to protect Lillie from Rotom Pokédex while it transformed into a Mow Rotom.
The Baile Style Oricorio debuted in A Seasoned Search!, alongside a Pom-Pom Style Oricorio. By drinking Yellow Nectar, it converted to the Pom-Pom Style. Anela called Pa'u Style Oricorio (ドリちゃん Dori-chan) when she owned it in All They Want to Do is Dance Dance! It was formally introduced as part of the Kanto region's Unova PokémonDex entry update on July 15th, 2012.
Dori-chan assisted Mallow's Steenee in learning her dance for the dancing class before delivering a Pokémon Dance performance before Ash and his classmates. Dori-chan made a return appearance in Securing the Future! where it joined the rest of Alola in lighting Necrozma with light so it could revert to its natural form.
Oricorio Pokémon
Oricorio are a type of Pokémon that is part-rock and part-flying. The first Sensu Style Oricorio was introduced in That's Some Spicy Island Research! Three of them were singing as Hapu worked on her radish field, and they were fed a few of them. More of them appeared later on the beach as Team Skull Grunts Tupp, Zipp, and Rapp attempted to utilize the radishes to attract the Oricorio towards them for capture. They were eventually set free when the Grunts retreated at Plumeria's request. The Oricorio returned in A Grand Debut!